Sam Avolis
ACC Tournament Round 1: Do any of these teams really matter?
¯\_(ツ)_/¯
College basketball fans rejoice. Conference tournament weeks are upon us, and March Madness is preparing to decrease productivity in America by approximately 250% for the next month. Bracket analysis, mid-day games, and water cooler trash talk will consume us as we gluttonize ourselves on the smorgasbord of all that college basketball has to offer.
Of course, it all gets started this week with conference tournaments, and excuse the bias, but the ACC tournament is the gold standard of the conference tournament.  While local fans may not love the move, there is a reason that this even was moved to Brooklyn. It is the best of the best, the crème de la crème, and no one can take that from the ACC, a conference that has the chance of placing 10-11 teams in the big dance.
Well…there are some teams that could take that away from the ACC. Those teams whose tournament games Commissioner John Swofford has attempted to sneak under the nose of the nation at noon tomorrow. I am of course referring to the dreadful "play in" Tuesday slate of games in the ACC.
Plain and simple, none of these teams will win the tournament. "Duh dude, we didn't need you to tell us NC State isn't good enough to win it all". I know I don't need to tell you that. But when you step back and realize that the lowest seeded team to ever win the ACC tournament was a #6 seed, which has happened 5 times, and then you see that there is really no hope at a title for #'s 10-14.
But what if…what if this is John Collins' masterpiece, leading his Deacons on a deep run through the likes of FSU and Notre Dame? What if Dennis Smith Jr. goes full Kemba Walker, and Mark Gottfried lands a BETTER job than the one from which he has already been fired? None of this will happen…but it could, right?
WRONG. Here's why.
Game 1: Tuesday, Noon, #12 Clemson v #13 NC State
What a better way to kick off a hopeful tournament run for NC State right? Literally just days after Dennis Smith Jr. wins ACC freshman of the year, the Wolfpack gets to face a lowly Clemson team which just beat them on Wednesday. NC State just can't have nice things I guess.
And just a quick sidebar on Smith…sure, he has been a heck of a player in Raleigh. But has any one and done player had less of a positive impact on a program than this guy? It's sad to say that despite a great season, and Freshman of the year honors, he has not left much of a stamp on the hearts of Wolfpack faithful, and was a part of the most forgettable NC State team of the last 20 years.
But let us put the attention back on this game for a moment. The winning culture is gone in Raleigh. DSJ has his accolades and will be a top 5 pick. There will probably be a slew of transfers coming with the new coaching change. Mark Gottfried already has his tickets to a Sandals resort singles weekend. So why wouldn't this be a game that the Wolfpack would win?
It's hard to beat a team twice in a week's time, and that is what the Wolfpack will have going for them on Tuesday. Jaron Blossomgame is the biggest threat for the Tigers against the Pack, going for 16 points and 8 rebounds in last week's matchup. The size of Clemson running through Blossomgame and Djitte is something that should immediately stand out as an advantage over NC State, but the Pack was able to out rebound the Tigers by one in the recent match up.
Expect more of the same out of NC State. A Dennis Smith Jr. showcase that will be too much for the likes of Avry Holmes and Shelton Mitchell to handle. And if one thing can be said about Mark Gottfried's teams in years past, they do get up for tournament games. Survive and advance, blah blah blah, none of that matters this year, but NC State will find a way to keep Mark Gottfried's coaching career alive for 1 more game to face Duke as a sacrificial lamb on Wednesday.
Game 2: Tuesday, 2:00 PM, #15 Boston College vs #10 Wake Forest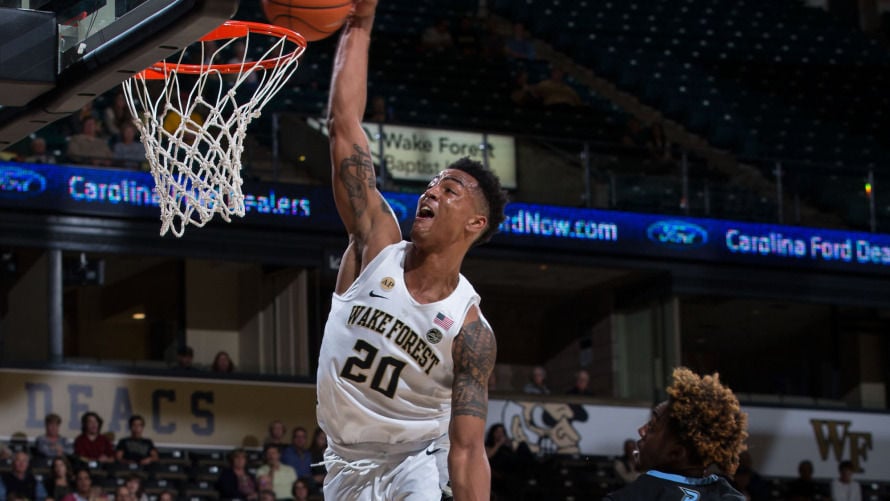 John Collins. That's all you need to know about this game. A guy who went from a sparingly used big man his freshman year to Most-Improved player and First Team All-ACC honors his sophomore year. Collins has been a beast all season long for the Deacs, averaging nearly a double-double and leading his team in scoring. Collins has caught the eye of many NBA scouts, and "carryin the team on his back doh" a la Greg Jennings (https://www.youtube.com/watch?v=1P0yfq2wDvU , NSFW) is the best way to continue to grow his stock.
Jim Christian is quietly starting a rebirth at Boston College. Ky Bowman made the All-ACC freshman team, while his sophomore backcourt partner Jerome Robinson received an All-ACC honorable mention. Bowman was the first freshman to receive this recognition from BC since Olivier Hanlan. Combined with Robinson, Boston College has a nice foot in the door to build success for years to come.
But not this year. This year they've won just 9 games. So I am not a betting man, but let's just say this is a free money situation. Wake Forest is a lock here, and actually the team I like to make an unexpected push here if anyone is going to do it. A second round date with Virginia Tech has the Deacs licking their chops; Wake Forest just beat the Hokies this past Saturday. Even after that, FSU has been a team whose success has been somewhat puzzling this season. The Seminoles have adopted a smaller lineup over the last few games of the season, which just seems to play right into the hands of Wake Forest, who are riding John Collins as much as they can.
The Deacons are sitting at 18 wins…a respectable tourney run will make Wake Forest a shoe in for the NCAA Tourney, and the "should have been" coach of the year Danny Manning will be on his way to returning Wake to respectable levels. Take the Deacs in a landslide against BC, but follow this team closely past Tuesday.
Game 3: Tuesday, 7:00 PM, #11 Georgia Tech vs #14 Pittsburgh
Okay look. I know I just said that Danny Manning should have gotten the Coach of the Year award, but Josh Pastner really did earn it. In just one season at GT, Pastner took a team who lost all four of its leading scorers from last year, was projected to go 0-18 in conference play by experts, and yet here they are sitting at 8-10 in the ACC with an outside shot of sneaking into the NCAA tournament.
Ben Lammers has been one of the most dynamic big men in college basketball this season, and earned and All-ACC trifecta, being named the Defensive Player of the Year, Second team All-ACC, and All-Defense team. Just a junior, Lammers will be back next year to play alongside side budding star Josh Okogie, who was picked up All-Freshman honors.
Pastner is in the middle of a major rebuild at Georgia Tech, who has seemingly had zero success since some of the better Paul Hewitt years. A hot commodity on the coaching carousel last season, Pastner clearly saw the potential at GT before he made the jump. The Ramblin' Wreck may actually be good at basketball, and it could happen a lot sooner than you think under Pastner.
Pittsburgh on the other hand…barf. This is life after Jamie Dixon. The Panthers made NCAA appearances in THIRTEEN of FIFTEEN years that Dixon was in Pittsburgh, and now Kevin Stallings has been left to project his name right onto his basketball team. The Panthers are stalling. The thought is that Jamie Dixon built this program into something, but that could not be further from the truth. The fact is, Jamie Dixon WAS this program. Pittsburgh went 4-14 in conference play this year, and showed some flashes in wins over UVA and FSU. But outside of Michael Young, there are no players to be excited about on this Panthers team. Pittsburgh has the feeling of a school that is about two seasons away from needing a full overhaul of its program. The Panthers, once relevant, will not be as such for a long time now.
So the choice is easy right? Georgia Tech handles business as they themselves try to put a tourney push to sneak into the big dance. With probably 3 wins needed, and a looming second round match up with UVA, the Yellow Jackets will be a nice story in the NIT tournament. The NCAA will have to save a dance with Josh Pastner for next off season; the Yellow Jackets are on the rise.
Check back tomorrow as we break down ACC tournament match ups all week long.